Journey is fun, entertaining and joyful, especially if it is with your loved ones. The boring journey which you would have, can be vanquished if some of your loved ones are there for company.But when we add Safe to Journey, It is not only your or your loved ones duty but all the Public who are involved in that Journey. Be it your bus conductor in which you are travelling, to the traffic policeman, to the Pedestrians & to the taxi driver who is travelling along with your bus; everyone's action matter. If in any circumstance any of them makes a wrong move, it can have a disastrous end.
Hence when we talk about "Road Safety", it is not only your action which matters but also others.Every individual when stepping outside has a discipline to be followed towards road safety. The below episode is a small tit bit of what I want to convey
"Aravind was crossing a road when he got a call. He answered the call. A few hours later , he was found in a hospital bed. You can find such stories in the newspaper every now or then.
Why does it happen. Was it the drivers fault who didn't see Aravind or was it Aravind who took a call and missed the speeding bike."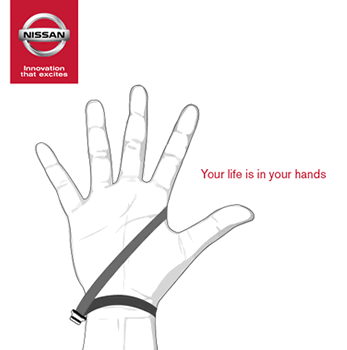 Source : NSDF
Matter of Fact, if each individual follow certain steps on Road safety we can combat it. Rules and regulation of road safety is something which has been taught to us from our school time. During my childhood I was very excited, especially the different signs, which was taught to us in schools to see them in the road. But over the time when we grow older, these signs are neglected. Hence safety starts from basic.
Do you know your Basic Rules? : Half of the drivers who drive never know the basic signs and signals. Even the few who know never follow them.Hence people who follow are left in a penny size. When such people tend to follow rules, others blame them. Hence people have forgotten which is right & which is wrong. Rules learnt in schools has been limited to school exams and never implemented.A strict action should be organised to revamp this wrong.
I would also like to bring some light on some key areas which needs attention
High Beam/Dim dip: This I believe is a very serious crime, when travelling in city limit, people put High beam lights.The opposite end vehicle is impacted highly. Any new learner would cause an accident due to it

Overtake and/or no Signal: Half of the accident in Bangalore happens due to overtake and/or no signals.

Drinking & Driving : Needs no introduction as even popular famous people have caught in the act.

Using Mobile while driving : Term "Mobile" means able to be moved but using a Mobile Phone while driving can harm others.Just a call can end a life.

Honking: It can be irritating when you hear honking when there is a red sign ahead.Please be patience & don't honk unnecessarily.
Don't neglect the audience! It is not only a Drivers responsibility but also other passengers who are seated in that vehicle on a road safety mission. Any distraction caused can result in damage.
For example,
It is not only for car drivers to wear a seat belt but also the passengers.

Also in Public transportation, many a times we notice people don't follow certain arrangements while climbing or when getting down especially in Buses/Trains. Hanging around the doors can be stylish but cause accidents.

Challenging/encouraging drivers for a road race in a busy streets can be catastrophic.

When you are with your kids/pets, make sure you direct them on how to behave in busy streets while you drive.

Even few action of Pedestrians can result in accidents. Accidents can happen due to the negligence while crossing roads, sleeping in footpath, jogging in roads, running to catch buses, etc.
Hence to avoid every Indian needs to be aware of the safety measures irrespective whether they drive or not.
Bike Riders!!!Footpath is for Pedestrians and not for 2 wheeler's. I am stressing on 2 wheeler because majority of Indian, rides bike or scooter. Even though it is small compared to other vehicles; it is a cause for major deaths & accidents.
Few attitudes of riders which needs attentions
No Helmet

No Licences

More than 2 people

No Age limit

Bad Maintenance - No Rear Mirrors / No Horns

Short cut Mania

Stunts
Traffic Men khi Jai!!!!! Of all the people in India, Traffic men are the ones who are in charge of these rules & safety. But are they the guider or the neglecter!!
Bribe, Scam and Restless behavior of them are seen and heard most of the times. These safety men are meant to serve their duty which they have forgotten and during safety drive should be monitored and reported.
Blaming is not a motivation, we need to help them & get them their appreciation of what they deserve too, as there are few good men in them too.
Lastly I would say that there are many other safety measures which I haven't mentioned here but the ultimate thought of road safety is that
"Death, Accident results in a loss of someone so dear, think about your dear one when you want to mend a rule..are you ready for a lose due to your childishness?"
Source: NSDF
This blog post is written as a part of a contest held by Indiblogger & Nisan India on road safety in India. Also to add on Nissan India is back with their "Nissan Safety Drive Forum" which campaigns about the road safety & its responsibility. This year's concept is "Safety starts from me".
To get more details on this forum , please visit their website.
https://www.nissan.in/innovation/NSDF.html