In this
world
of Homo Sapiens, like all other species, we have 2 primary genders defined as Men & Women.
From ages, there lies difference in these gender claiming Men to be powerful. Yes of-course, when compared to the physical structure as nature's gift, Male is always termed to be physically powerful in any species. But does that define "Females are weak??"
Simple answer- "Giving birth is not termed as weak"; on the contrary, I believe it might mean to be more powerful compare to the physical stature of Men.
Hence like Men, we Women also can't be defined as a single identity.
If a man can be a Father AND Husband AND CEO AND Helpful Buddy, women should not be restricted to Mother OR Wife OR Blogger OR Software Engineer.
My Identity -
I am a woman, a female form of Homo Sapiens. I am a
Wife AND Blogger AND Software Engineer AND Dancer AND Artist AND Poet AND Supportive Friend AND many more. I can't be limited by just a single label...
& the Journey...
Through my Childhood to a teenager, I was termed as "SHORT". My Height is 4.10. Parents
suggested pull ups to get rid of the tag. A
s I was still searching my way, I started wondering whether Height is what defines someone.
Then when stepped into High School, I was a good dancer. I had been studying
Bharatanatyam from my class 1
.
My Bharatanatyam Sir always appreciated my dance and stamina compared to other students. I became SHORT AND DANCER
Through my Schools & college, I learnt to Paint. As Mom was Painter, Painting was in blood. I tried my hand in Sketches, Oil Paintings, Watercolors; everything went to touch a golden stand.
I became SHORT AND DANCER AND PAINTER
When I went to Engineering for my higher studies, I stood First in Class.
My HOD called me as the most active, courageous student of the class & my friends as Kutti, Talkative Topper. I became SHORT AND TOPPER AND TALKATIVE AND ACTIVE
AND DANCER AND PAINTER.
Through Campus, got into a reputed Software Company. I became SOFTWARE ENGINEER AND the rest followed
. Each project I entered, I shined with different roles from TESTER to TEST LEAD to LEARNING & DEVELOPMENT SPOC to HUMAN RESOURCE SPOC, which can be combined only with an 'AND'.
Then on my free time, I started writing Poems & Blogs; which entered a new world which engulfed much more freedom to express and showcase my talent within me. I am still persisting the tag of being POET & BLOGGER by my brothers-in-law, friends &
Colleagues
.
When I was ready to be 'married', I faced difficulties with people rejecting by defining as she is
so
SHORT, but only my dear husband chosen me as CUTE AND PRETTY AND SEXY AND SHORT. I thank god to others who rejected me for not understanding the "AND" because I
received
the best husband in the world.
I learnt to cook just before marriage & now I give shocks to my mom, by correcting her, for now I have become a COOK
2 years back, I have purchased a DSLR, but still learning some new tricks. Hopefully to call myself a FUTURE PHOTOGRAPHER.
I am sure to find a new 'AND' as I am a GEMINI by birth date and as defined GEMINI never want to constrain by one activity, they express themselves to be in many form. I would take up this positive vibes from GEMINI and redefine myself with being FUTURE MOM & TRAVELER
& PHOTOGRAPHER & NOVELIST & SOON.
Now tell me, Why not an 'AND'??
"Talent packed" an expression from my friend makes me so proud which further determines that I am bound to play so many character. And why not, isn't it what makes our life so beautiful?
I know I will showcase myself as I don't want to restrict myself being just in one role as "I am WOMEN", who does so many 'AND' roles and never demands visibility for it.
But Lets not be invisible, Let us OUTBURST. In future, when I have my own
daughter, she should get the revised statement as "Women are more powerful than men".
Journey from an INNOCENT student to
an OUTSPOKEN engineer,
I want to be described, "Prathima, not defined by just a 'SHORT', but more than that she is with an 'AND'; multitasking lady with multitude things running around her"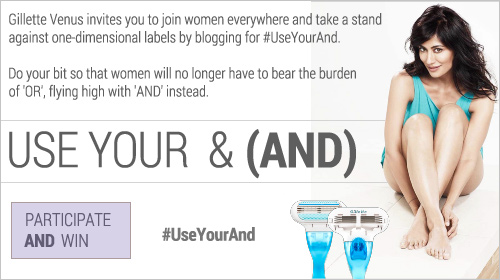 "
This post is a part of #UseYourAnd
activity at BlogAdda
in association with Gillette Venus"